We are so excited to bring you another year of fun poetry festivities carefully crafted
by the official Poet Fest Committee! (Pardon the rhyme! LOL)
Below you will find event descriptions and the schedule. Click on either section to read more!
Please reach out to poetfest757@gmail.com if you have any questions or concerns.
We look forward to seeing you on April 14th & 15th!
Friday April 14th
Doors open at 6PM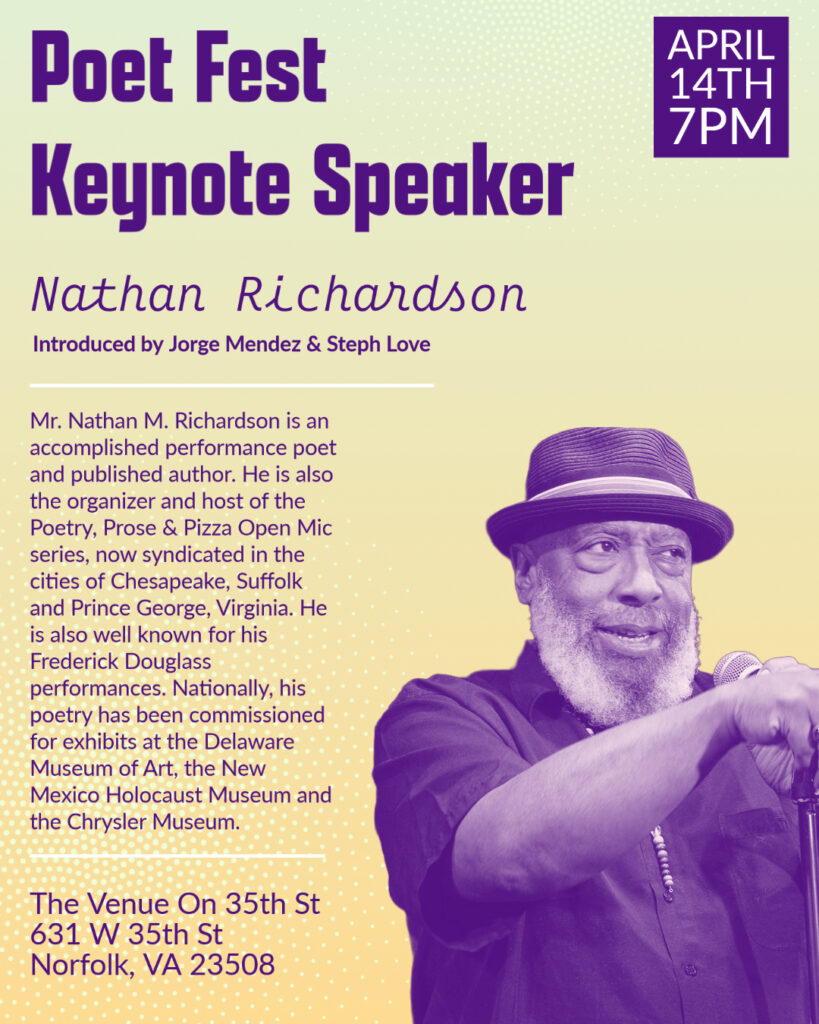 7PM: Keynote Speaker – Nathan Richardson, Hosted by Jorge & Steph Love
Mr. Nathan M. Richardson is an accomplished performance poet and published author. He founded Spiritual Concepts Publishing in 1998 which offers literary consulting and a variety of workshops to emerging writers. He is also the organizer and host of the Poetry, Prose & Pizza Open Mic series, now syndicated in the cities of Chesapeake, Suffolk and Prince George, Virginia. Nationally, his poetry has been commissioned for exhibits at the Delaware Museum of Art, the New Mexico Holocaust Museum and the Chrysler Museum.
Since 2010 Mr. Richardson has served as the lead coach for the Hampton Roads Youth Poets (HRYP) Slam Team. From a group of approximately 20 poets ages 13-19 years old, five are selected each year to represent Virginia at the Brave New Voices (BNV) International Poetry Slam. This year's BNV competition will be held in Chicago, IL. HRYP is a division of the youth empowerment organization – Teens with a Purpose.
A short list of his other affiliations include the Poetry Society of Virginia, Young Audiences of Virginia, and the Advisory Council for the Christopher Newport University Writers Conference. Find out more about this amazing author at www.scpublishing.com
---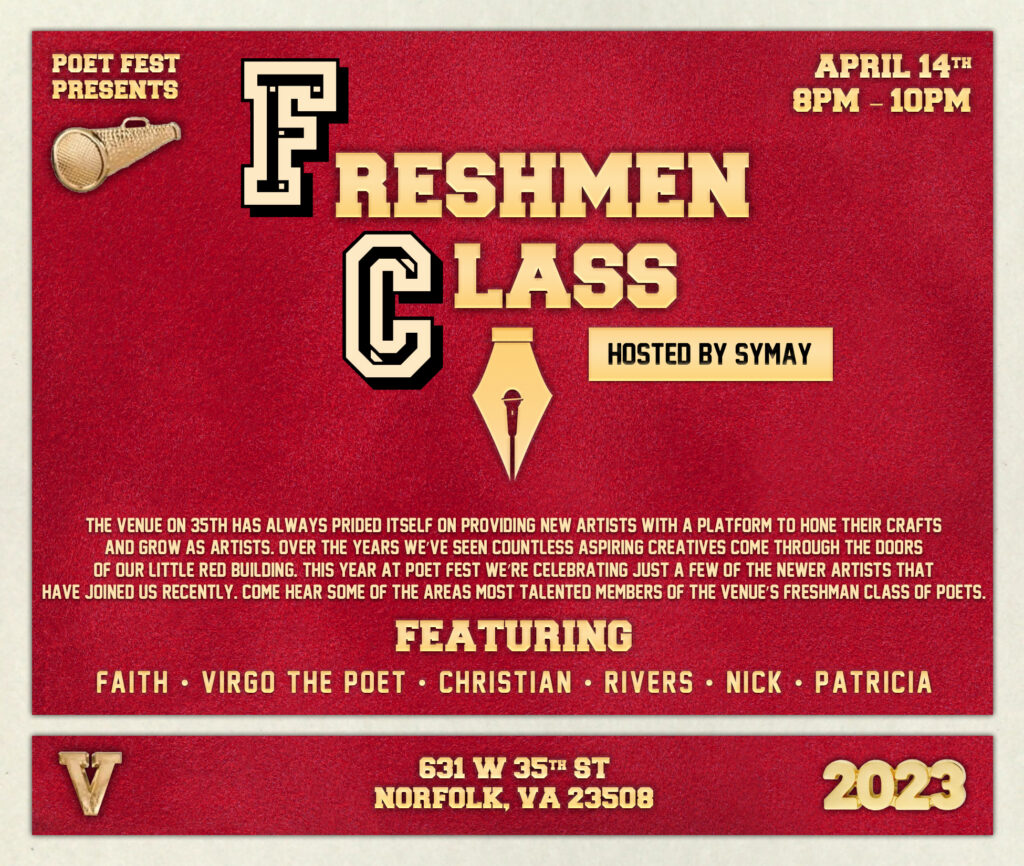 8PM – 10PM: The Freshman Class Hosted by Symay Rhodes
The Venue on 35th has always prided itself on providing new artists with a platform to hone their crafts and grow as artists. Over the years we've seen countless aspiring creatives come through the doors of our little red building. This year at Poet Fest we're celebrating just a few of the newer artists that have joined us recently. Come hear some of the areas most talented members of the Venue's Freshman Class of poets. Feature Presenters to include: Faith, Virgo, Christian, Rivers, Nick and Patricia.
Saturday April 15th
Doors open at 10AM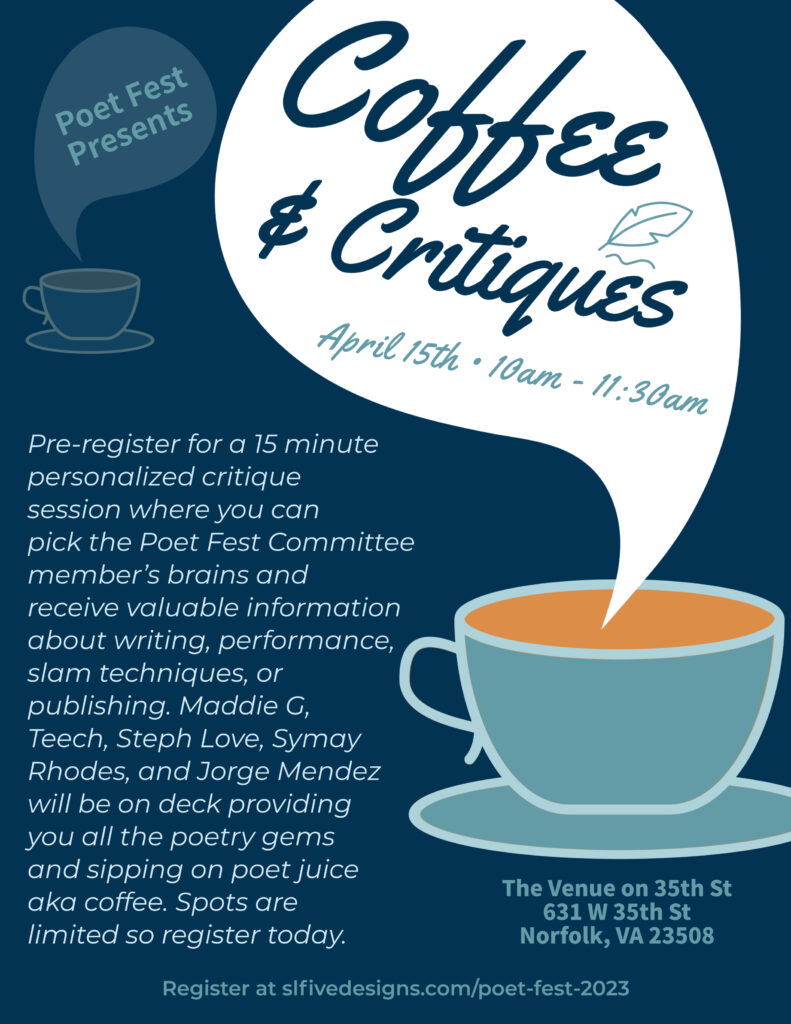 10AM – 11:30AM: Coffee & Critiques
Pre-register for a 15 minute personalized critique session where you can pick the Poet Fest Committee member's brains and receive valuable information about writing, performance, slam techniques, or publishing. Maddie G, Teech, Steph Love, Symay Rhodes, and Jorge Mendez will be on deck providing you all the poetry gems and sipping on poet juice aka coffee.
---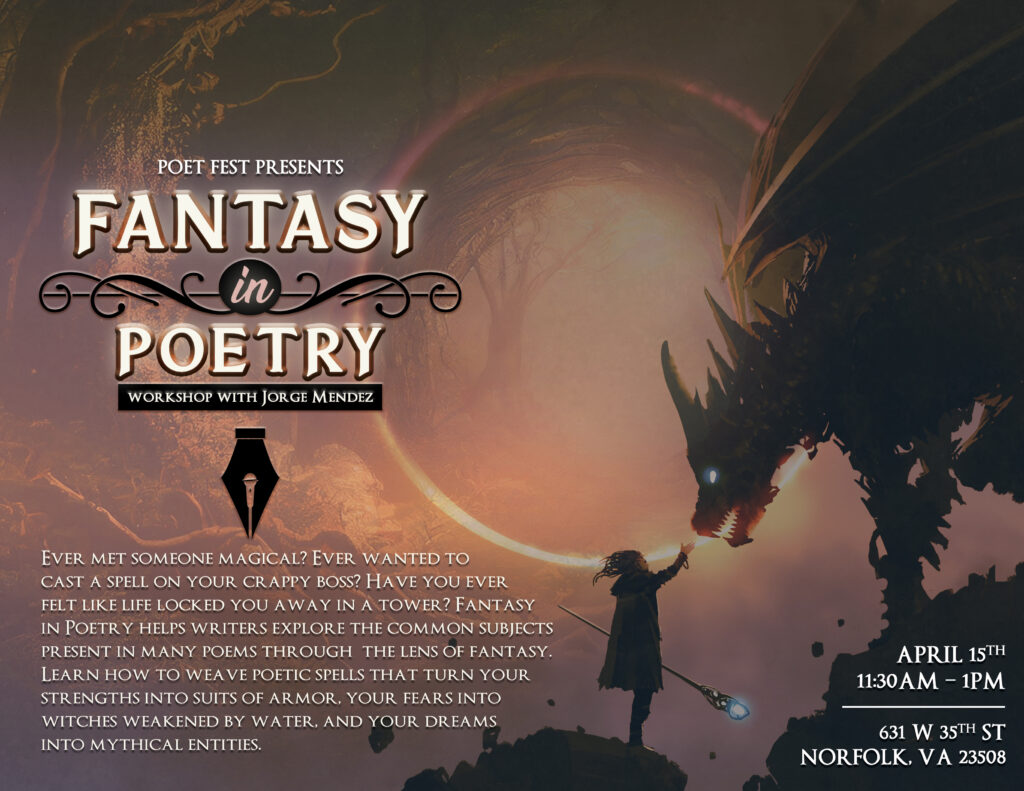 11:30AM – 1PM: "Fantasy in Poetry" workshop with Jorge Mendez
Ever met someone magical? Ever wanted to cast a spell on your crappy boss? Have you ever felt like life locked you away in a tower? Fantasy in Poetry helps writers explore the common subjects present in many poems through the lens of fantasy. Learn how to weave poetic spells that turn your strengths into suits of armor, your fears into witches weakened by water, and your dreams into mythical entities.
---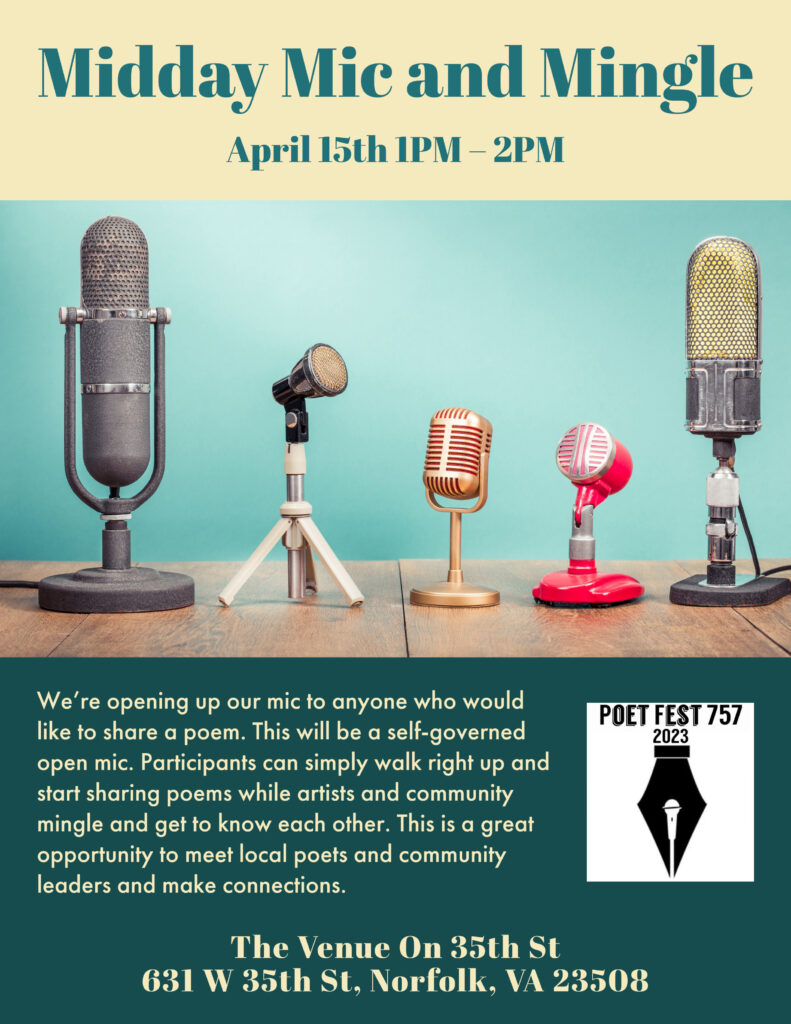 1PM – 2PM: Midday Mic and Mingle
We're opening up our mic to anyone who would like to share a poem. This will be a self-governed open mic. Participants can simply walk right up and start sharing poems while artists and community mingle and get to know each other. This is a great opportunity to meet local poets and community leaders and make connections.
---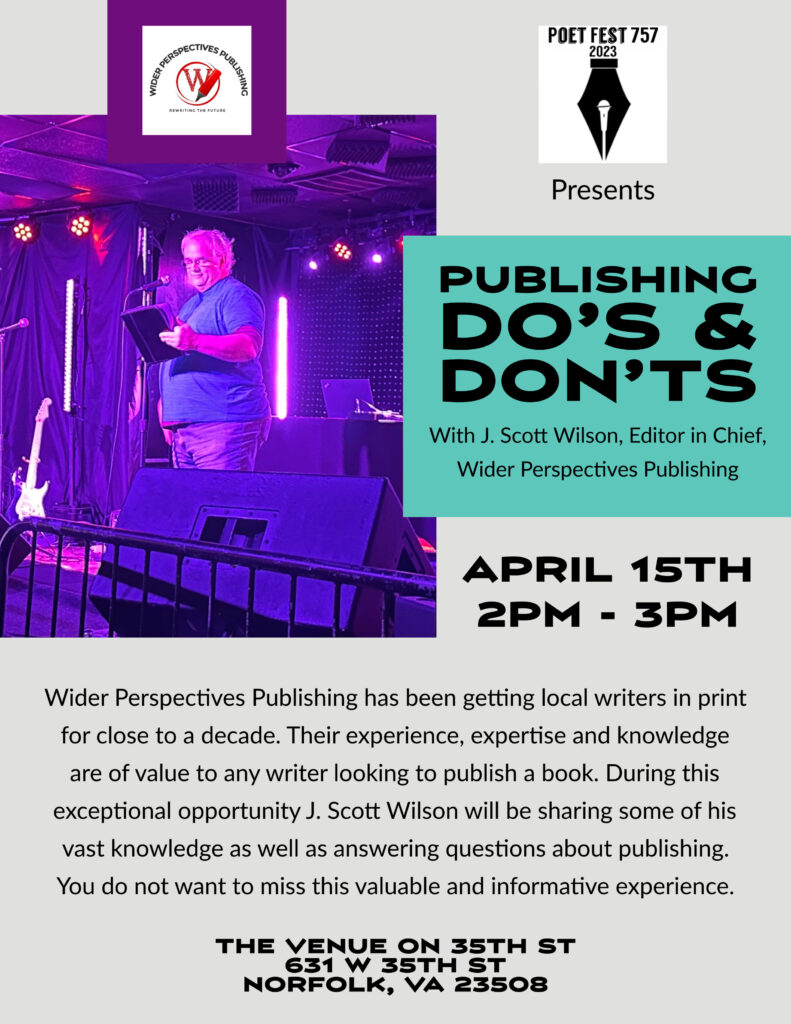 2PM – 3PM: "Publishing Do's & Don'ts" with J. Scott Wilson, Editor in Chief, Wider Perspectives Publishing
Wider Perspectives Publishing has been getting local writers in print for close to a decade. Their experience, expertise and knowledge are of value to any writer looking to publish a book. During this exceptional opportunity J. Scott Wilson will be sharing some of his vast knowledge as well as answering questions about publishing. You do not want to miss this valuable and informative experience.
---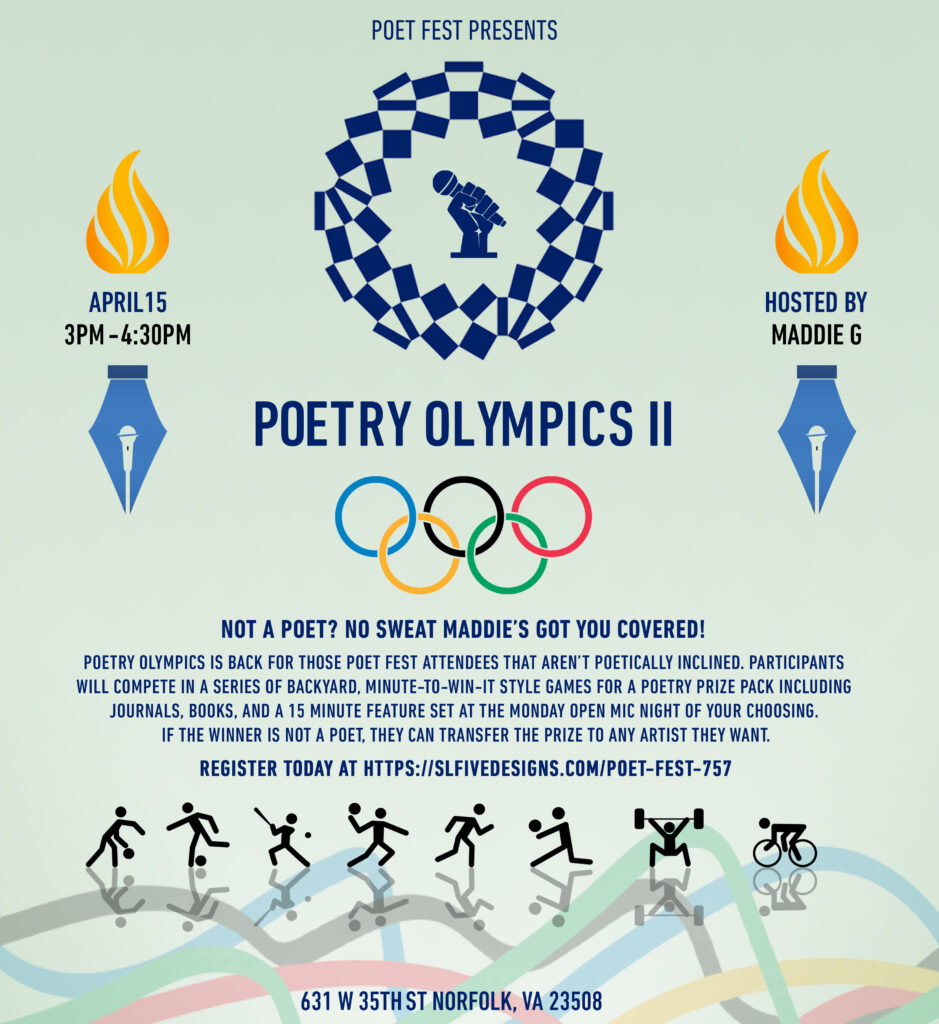 3PM – 4:30PM: Poetry Olympics II Hosted by Maddie G
Not a poet? No Sweat Maddie's got you covered! Poetry Olympics is back for those Poet Fest attendees that aren't poetically inclined. Participants will compete in a series of backyard, minute-to-win-it style games for a poetry prize pack including journals, books, and a 15 minute feature set at The Monday Open Mic night of your choosing. If the winner is not a poet, they can transfer the prize to any artist they want.
---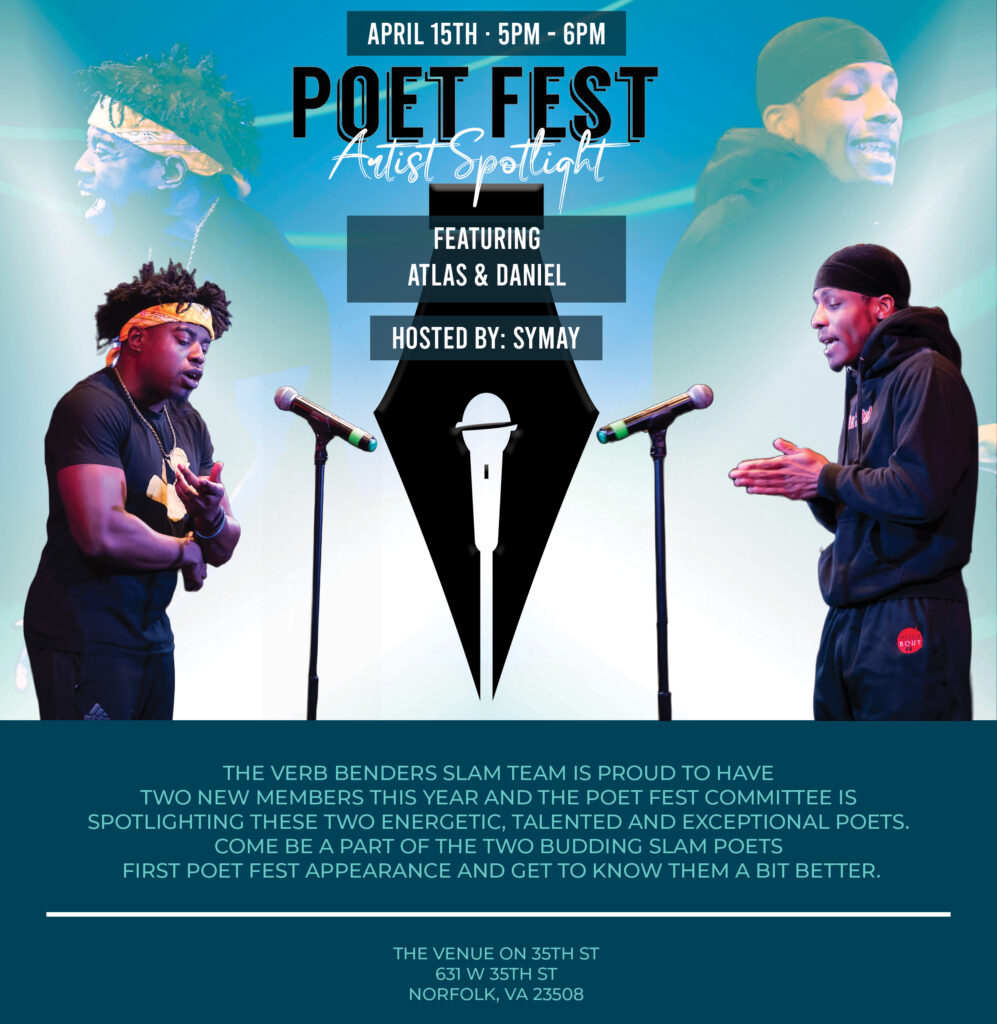 5PM – 6PM: Poet Fest Artist Spotlight Featuring Atlas & Daniel Hosted by Symay Rhodes
The Verb Benders Slam Team is proud to have two new members this year and The Poet Fest Committee is spotlighting these to energetic, talented and exceptional poets. Come be a part of the two budding slam poets first Poet Fest appearance and get to know them a bit better.
---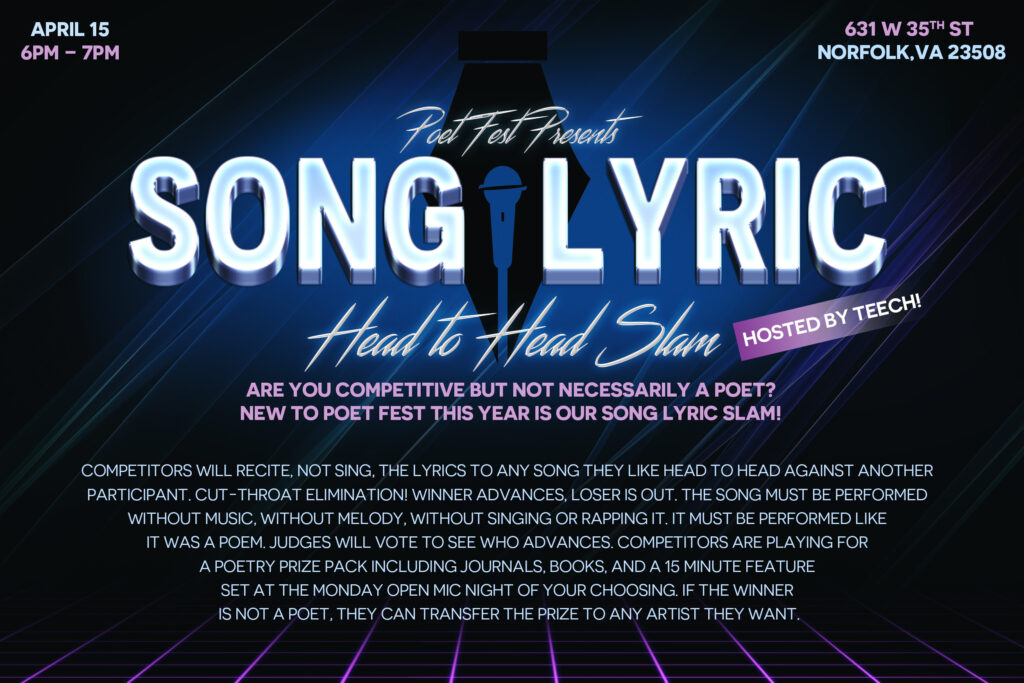 6PM – 7PM: Song Lyric Head to Head Slam Hosted by Teech!
Are you competitive but not necessarily a poet? New to Poet Fest this year is our song lyric slam! Competitors will recite, not sing, the lyrics to any song they like head to head against another participant. Cut-throat elimination! Winner advances, loser is out. The song must be performed without music, without melody, without singing or rapping it. It must be performed like it was a poem. Judges will vote to see who advances. Competitors are playing for a poetry prize pack including journals, books, and a 15 minute feature set at The Monday Open Mic night of your choosing. If the winner is not a poet, they can transfer the prize to any artist they want.
---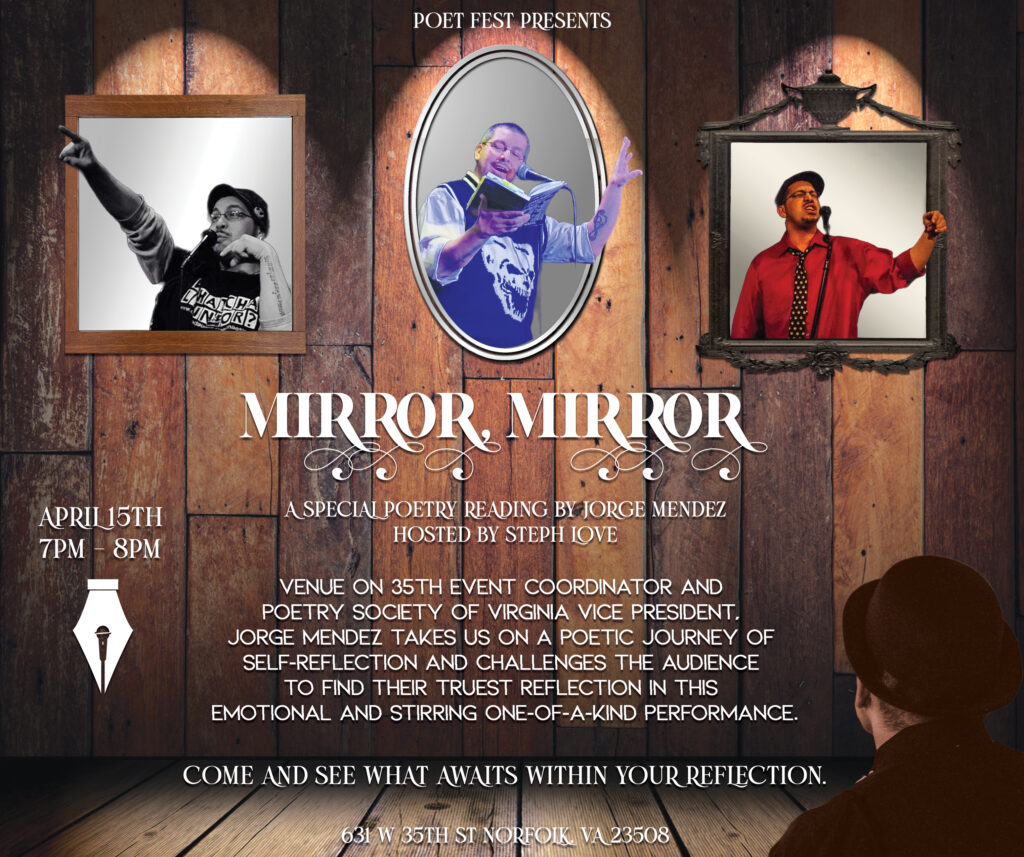 7PM – 8PM: "Mirror, Mirror" A Special Poetry Reading by Jorge Mendez Hosted by Steph Love
Venue on 35th event coordinator and Poetry Society of Virginia Vice President, Jorge Mendez takes us on a poetic journey of self-reflection and challenges the audience to find their truest reflection in this emotional and stirring one-of-a-kind performance. Come and see what awaits within your reflection.
---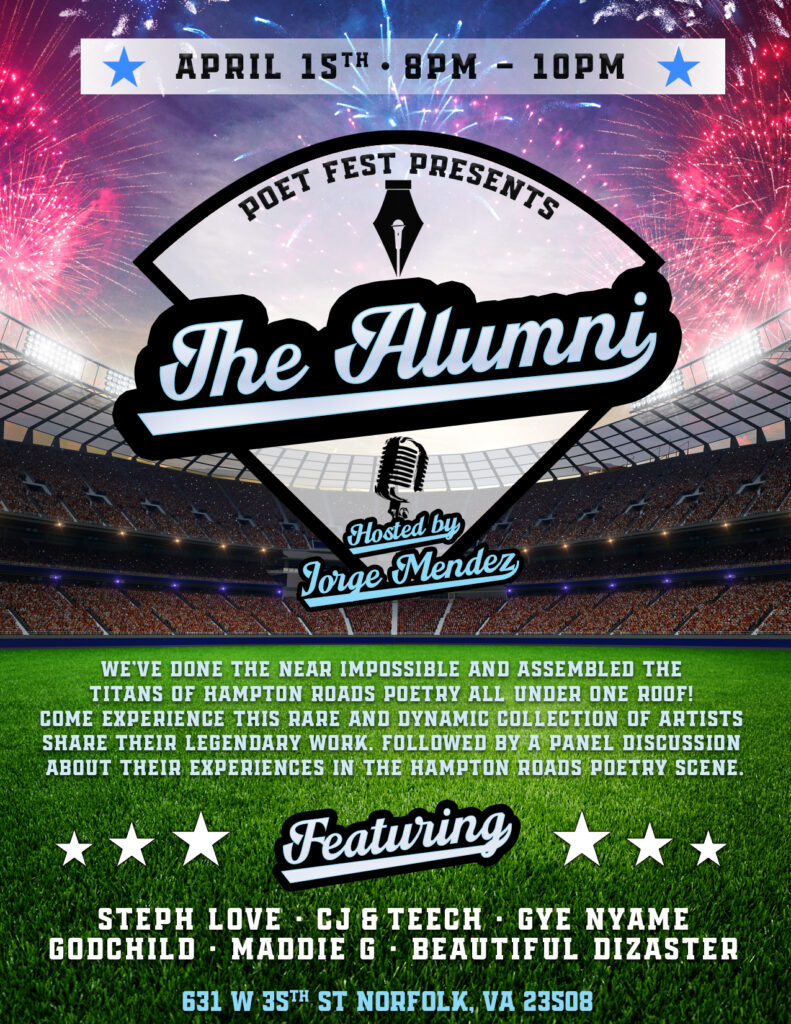 8PM – 10PM: Poet Fest Presents: The Alumni Hosted by Jorge Mendez
We've done the near impossible and assembled the titans of Hampton Roads poetry all under one roof! Come experience this rare and dynamic collection of artists share their legendary work. Followed by a panel discussion about their experiences in the HR poetry scene. Feature Presenters to include: : Steph Love, CJ & Teech, Gye Nyame, Godchild, Maddie G, and Beautiful Dizaster.